We are committed to supporting charities that match our ideals and are close to our hearts.
This year we have chosen to support brainstrust as our "Charity of the Year" and will be fundraising and donating for the next 12 months.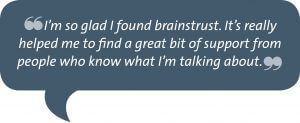 A shockingly small amount is spent on brain tumour research and brainstrust is the only charity dedicated to brain tumour support in the UK available for people 24 hours a day, 7 days a week.
For clients, should we be successful in introducing a candidate to you, we will make a donation on your behalf based on a percentage of the fee.
We have set ourselves a challenging target and with your help, hope to achieve that.