From 2009 to 2016 Cheryl and David worked for a leading regional recruitment agency based in Cardiff. During that time they moved across the divisions, developing an in-depth understanding of a variety of sectors.
As their individual levels of responsibility increased over time they noticed they shared a lot of values and practices. Ensuring all candidates received the same high level of service, whether they were successful at applying for a vacancy or not. Being honest with their clients and adopting a 'no-pressure' approach.
They formed a vision of a recruitment agency that is an extension of an employers' Human Resources department.
Whilst working exclusively in the South Wales market they have gained an unrivalled knowledge of the local employment market, making them a both credible and insightful team.
The focus is narrow but deep, specialising in following sectors:
Both are qualified with the Recruitment and Employment Confederation and have obtained a CIPD Module in Recruitment and Resourcing Practices.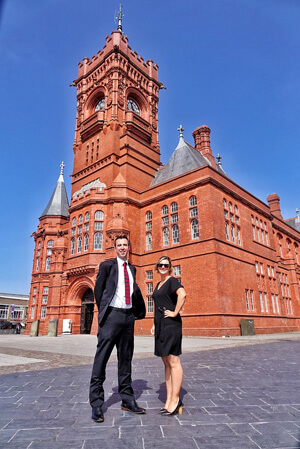 We acknowledge that recruitment is not and will never be a "numbers game" but a journey that can have many twists and turns. We believe that by listening and understanding we are best placed to help our clients and our candidates on that journey. Forging long term relationships remain at the heart of our business.
We are proud to be working in a vibrant and growing area and believe there are some excellent companies and exceptional talent that can really capitalise on the potential of the South Wales market.
If you are an employer looking to place a vacancy with us or a candidate looking for the next step in your career, you can be confident of receiving high levels of service and honesty that draws on over 18 years recruitment experience.
Cheryl Eldridge - Director
Cheryl graduated from the University of Gloucestershire with a BA Hons in Business Management in 2003 and embarked upon her recruitment career in 2005. Originating from the West Midlands, she commenced her career working for a niche (and very traditional) independent recruitment agency, specialising in Financial Services and Insurance, where a "database" was unheard of! Working closely with the Managing Director, Cheryl was mentored using essential (back to basic) recruiter skills, which has shaped her unique recruitment style.
Cheryl relocated to south Wales in 2006 and worked for two Cardiff based independent agencies prior to co-founding Bowen Eldridge. Cheryl has now gained over 15 years' experience and is responsible for the Accountancy Practice vacancies. Cheryl has gained her Certificate in Recruitment Practice and prides herself on her ethics and integrity whilst engaging on any recruitment activity.
David's first exposure to recruitment came when he worked with a government agency that helped find staff for the construction of the Cardiff Bay Barrage. The recruitment process was slightly different back then, where a database was a ring binder of contacts, David was able to build relationships quickly and understand the needs of clients and candidates with equal importance afforded to both.
Although the technology has changed, the ethos has not and David places importance on being able to listen and empathise to deliver the best results. David has experience of working for a specialist and generalist agency with knowledge of recruiting in a variety of sectors that includes Finance, Human Resources and Marketing as well as specialist support roles
Sometimes a lone voice, David maintains that recruitment and sales have nothing in common and prefers to work in an advisory capacity that benefits any candidates and client he works with.
Our philosophy is to create a cooperative partnership, where a thorough understanding of the company's culture is understood from the outset. We feel that securing the right candidate traits for your workplace is equally as important as the required skill set. We endeavour to listen to all our client needs whilst providing a first-class customer service.
You will have direct contact with both Partners during any recruitment project.
We will adopt a number of techniques when searching for candidates including; candidate databases, advertising using job boards, referrals, networking, proactive website searching, headhunting and social media.