The indispensable guide to Google for Jobs
They've finally done it! This year, Google branched into the job search market with the introduction of Google for Jobs. Similar in functionality to Indeed, Monster and other popular job boards and job sites, Google's latest offering is a new search experience that collates jobs from all across the web. Listing a range of jobs from different companies in one place, it helps job seekers find roles that are best suited to their skills and experience. It also provides a way for brands and recruiters to advertise their roles.
With Google for Jobs being so fresh (it was rolled out in the UK in July), it can be difficult knowing how to navigate its various features and ensure you get the best out of it. This is true whether you're hoping to use it to advertise a vacancy at your company, or you're searching for a job for yourself. Fortunately, we've put together this quick and handy guide to teach you the basics of how to use Google for Jobs…
How to post jobs on Google for Jobs
Unlike the other job boards we've mentioned (which allow to pay a fee and upload your vacancy), you can't post job listings directly to Google for Jobs. Because Google's job search tool collects listings from other websites and displays them in one place, you'll need to ensure that your job is posted elsewhere.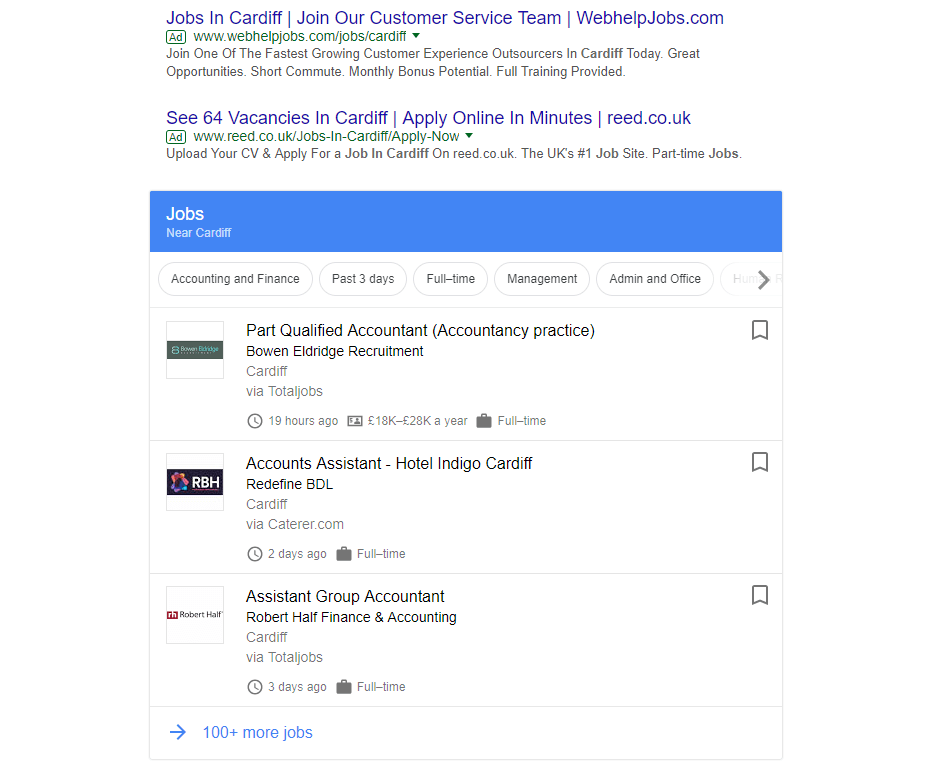 There are currently two ways to get your vacancies featured on Google for Jobs:
Post jobs on a third-party job site
The quickest and easiest way to appear in the Google for Jobs search results is by posting your vacancy on job boards and other job websites that are already integrated with the platform. However, the only downside is that you'll be required to pay to post a job on many of these websites.
Just some of the platforms that are already integrated with Google for Jobs include Monster, LinkedIn, Facebook, Glassdoor, and Jobrapido. At Bowen Eldridge Recruitment, we share our jobs on third-party job boards (as well as our website), which ensures they're shown in the Google for Jobs search results.
Integrate your website with Google for Jobs
If you have a 'jobs' section on your company website, then you may want to integrate this with Google for Jobs. To do so, you'll be required to add structured data to your posted vacancies, as well as submit a Sitemap to Google. A Sitemap ensures Google is able to index your website's pages, while 'structured data' helps Google to understand the context of a page, helping it to appear in search results.
For more information on how to implement this, check out Google's guide to creating job postings. If you need more guidance with this, seek consulting services from a developer or a digital marketing agency, such as SIXGUN.
How to search for jobs on Google for Jobs
To search for roles through Google for Jobs, type a search query (such as 'Accountancy jobs in Cardiff') in Google's regular search bar. This will then bring up a box containing various jobs, with the option to click on these highlighted roles to find out more. You can also choose to view more job search results.
When you click an option, you'll be directed through to Google for Jobs. Here you can filter your results by category (a.k.a. sector), title, location, date posted, type, company type and employer. This ensures that you're only shown the most relevant roles.
Another handy feature to take advantage of when searching for vacancies through Google for Jobs is 'salary comparison'. This appears near the bottom of a listing when you click on a job to find out more. Using data from third-party websites (such as Glassdoor, Payscale, LinkedIn and Totaljobs), it can show you how the salary compares to similar vacancies being advertised across the web.
Looking for a new role or candidates to fill a vacancy? At Bowen Eldridge, we specialise in recruiting within Accountancy, HR (Human Resources), and Marketing across South Wales. To find out how we can help you, contact us today.